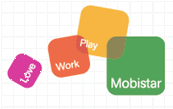 Voice tariffs
Tempo Talk
All calls
Mo-Su 0-24
National SMS
Mo-Su 0-24
Data
Mo-Su 0-24
€ 0.27
€ 0.12
€ 0.50/MB
Tempo Text - Tempo Tribe
All calls
Mo-Su 0-24
National SMS
Mo-Su 0-24
Data
Mo-Su 0-24
€ 0.30
€ 0.12
€ 0.50/MB
Recharge bonuses
Recharge bonuses
Tariff
€ 10.00 refill
€ 15.00 refill
€ 25.00 refill
€ 50.00 refill
Tempo Talk
10 free hours to Mobistar, landline Sa-Su 0-24
10 free hours to Mobistar, landline Sa-Su 0-24
10 free hours to Mobistar, landline Mo-Fr 19-7, Sa-Su 0-24
10 free hours to Mobistar, landline Mo-Su 0-24
Tempo Text
10MB of surfing, 300 national SMS
10MB of surfing, 5000 national SMS
Tempo Tribe
1GB of surfing on Netlog, Facebook & Twitter, 300 national SMS
1GB of surfing on Netlog, Facebook & Twitter, 5000 national SMS
If you refill with only € 5.00 you get no special bonuses.
Additional costs and services
Messaging
International SMS: € 0.37
MMS: € 0.25 (max 300KB)
Voicemail
free of charge while in Belgium
Data Calls
Only mobile surfing is available at € 0.50 per MB or per hour (the first of the two).
Some small data bundles are available:
- 25MB: € 3.00 valid 31 days;
- 50MB: € 5.00 valid 31 days;
- Unlimited Social Networs: € 3.00 valid 31 days on Facebook, Twitter, Netlog
- Blackberry© prepaid: € 7.00 valid 31 days including 100MB.
International calls & roaming
different charges, see here: International calls
Roaming
Debiting method
60/1
Top-Ups/credit/validity
€ 15.00/15.00/12 months
€ 25.00/25.00/12 months
€ 50.00/55.00/12 months
You can top-up also from abroad with VISA and Mastercard credit cards
Important
The validity of the sim-card is 12 months since last loading BUT you have to make a call or send an sms every 3 months to keep your sim-card active. After 3 months you have another month to make another call or send an sms, but after that your card will be de-activated.