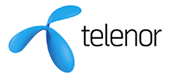 Voice tariffs
Telenor Kontant
Set-up fee
for all calls
All calls, standard rate
Mo-Su 0-24
All calls, NOK 200 refill
Mo-Su 0-24
All calls, NOK 300 refill
Mo-Su 0-24
All calls, NOK 500 refill
Mo-Su 0-24
NOK 0.89
€ 0.11
NOK 0.99
€ 0.13
NOK 0.89
€ 0.11
NOK 0.74
€ 0.09
NOK 0.39
€ 0.05
Special rates after refilling
Whenever you refill you get lower rates as stated above. The special rates are valid for 30 days after you refill. After 30 days you automatically switch back to the standard rates, unless you refill again.
Additional Services and Costs
Messaging
SMS: NOK 0.69 - € 0.09
MMS: NOK 1.99- € 0.25
Data Calls
NOK 10.00/MB (€ 1.28), max NOK 10/day; if you use more than 500MB of data in a month, Telenor can reduce the speed up to 100Kbps.
Voice Mail
???
International Calls
different charges apply, click here (in Norwegian)
International Roaming
Available, for all information (in Norwegian) see here
Billing
3/3
Refills/credit
NOK 200/200
NOK 300/300
NOK 500/500
Validity period
???