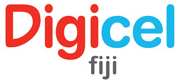 Voice tariffs
Free after 5
Calls to Digicel
Mo-Su 0-24
Other calls
Mo-Su 0-24
FJD 0.36
€ 0.145
FJD 0.40
€ 0.16
Additional costs and services
Messaging
SMS to Digicel: FJD 0.12 - € 0.05
Other national & International SMS: FJD 0.15 - € 0.06
MMS: FJD 0.50 - € 0.21
Voicemail
free of charge
Data Calls
GPRS: FJD 3.00/MB - € 1.21/MB
International Roaming
available, see here
Debiting Method
National and International calls: 30/30
International roaming: 60/60
Refills and Validity
FJD 3, FJD 5, FJD 10, FJD 15, FJD 20, FJD 50, FJD 100
all valid for 90 days
International calls
Selected landlines
FJD 0.40 - € 0.16
Digicel Pacific
FJD 0.40 - € 0.16
Zone 1
FJD 0.80 - € 0.32
Zone 2
FJD 1.50 - € 0.61
Rest of the World
FJD 3.00 - € 1.21
Selected landlines: landline numbers in Australia, Canada, China, India, Japan, New Zealand, United Kingdom, United States.
Digicel Pacific: Digicel mobile numners in Nauru, Papua New Guinea, Samoa, Tonga, Vanuatu.
Zone 1: Alaska, Albania, Algeria, Angola, Anguilla, Antigua/Barbuda, Argentina, Armenia, Aruba, Australia, Austria, Azerbaijan, Bahamas, Bahrain, Bangladesh, Barbados, Belarus, Belgium, Belize, Benin, Bermuda, Bhutan, Bolivia, Botswana, Brazil, British Virgin Island, Brunei, Burkina Faso, Cambodia, Cameroon, Canada, Cayman Islands, Chile, China, Colombia, Congo, Costa Rica, Croatia, Cyprus, Czech Republic, Denmark, Dominica, Dominican Republic, Ecuador, Egypt, El Salvador, Faroe Island, Finland, France, French Polynesia (Tahiti), Gabon, Georgia, Germany, Ghana, Greece, Guam, Grenada, Guadeloupe, Guatemala Guinea Republic, Haiti, Hawaii, Honduras, Hong Kong, Hungary, India, Indonesia, Iran, Iraq, Ireland, Israel, Italy, Ivory Coast, Jamaica, Japan, Jordan, Kazakhstan, Kenya, South Korea, Kuwait, Laos, Latvia, Lebanon, Lesotho, Libya, Lithuania, Luxenbourg, Macau, Macedonia, Malawi, Malaysia, Maldives, Mali, Mariana Islands, Marshall Islands, Mauritania, Mauritius, Mexico, Micronesia, Moldova, Mongolia, Montserrat, Mozambique, Namibia, Nepal, Netherlands Antilles, Netherlands, New Caledonia, New Zealand, Nicaragua, Niger, Nigeria, Norway, Palestine, Pakistan, Papua New Guinea, Panama, Paraguay, Peru, Philippines, Poland, Portugal, Puerto Rico, Rwanda, Romania, Russia, San Mario, Saudi Arabia, Senegal, Singapore, Slovak Republic, Solomon Islands, South Africa, Spain, Sri Lanka, St Kitts & Nevis, St Lucia, St Vincent, Sudan, Suriname, Swaziland, Sweden, Syria, Taiwan, Tajikstan, Tanzania, Thailand, Trinida & Tobago, Turkey, Turkmenistan, Turks & Caicos, Uganda, UK, Ukraine, United Arab Emirates, Uruguay, USA, US Virgin Islands, Uzbekistan, Venezuela, Vietnam, Western Samoa, Yemen Arab Emirates, Zambia, and Zimbabwe.
Zone 2: Afghanistan, Andorra, Ascension Islands, Bulgaria, Chad, Cook Islands, Eritrea, Estonia, Ethiopia, French Guiana, Gambia, Gibraltar, Guyana, Iceland, Kiribati, Lichtenstein, Madagascar, Malta, Martinque, Mayotte, Monaco, Morocco, Montenegro, Myanmar, Nauru, Niue, Oman, Palau, Qatar, Reunion/Mayotte, Serbia, Seychelles, Sierra Leone, Slovenia, St Pierre/Miquelon, Switzerland, Tonga, Tunisia, Tuvalu, Vanuatu, and Zaire.